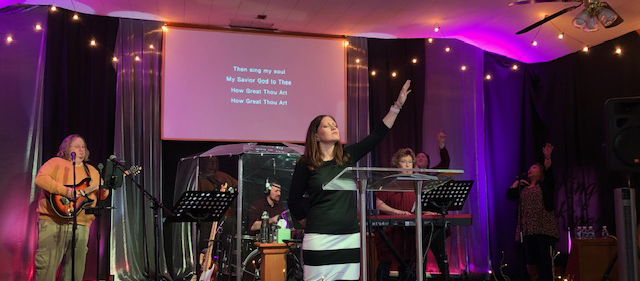 Sun. Worship Services – 10 AM
WEEKLY SCHEDULE:       SUNDAY MORNING SERVICE – 10 AM
Mid-Week Service:  Prayer @ 6pm and Bible Study @ 6:30 pm Wednesdays. 
Sunday Morning Services and Special Events are live streamed on Facebook.

 Summer 2023
Midweek Bible study -The Armor Of God – Priscilla Shirer
6:30 PM Wednesday nights
PRAYER:  
WEDNESDAY NIGHTS AT 6 PM
CHECK OUT OUR WORSHIP VIDEO'S 
ON FACEBOOK AND INSTAGRAM
 Follow us on social media for the latest updates on upcoming events and in case of inclement weather!
Follow us on Facebook
About Harvest Church
Harvest Church is a Spirit filled church in Murfreesboro, Tennessee. Pastors Manuel and Joeline planted this church back in January, 2004.  Harvest has been part of many food outreaches and continues to give back to the Murfreesboro area. We put a high priority on loving each of those around us and pushing each other closer to God. Our primary focus is lifting up the name of Jesus, restoring honor to God, and realizing that He has a specific plan and purpose for each one of us. We allow the Holy Spirit to have free reign in all of our services. Loving God and loving people. Come visit our church family!
Come Join us
Service Times
Sundays at 10:00 am
We'd love for you to join us for Sunday morning worship and a sermon from Pastor Manuel McGregor
Wednesdays at 6 pm
Join us for corporate prayer from 6-6:45pm, praise and worship from 6:45-7pm and Life Groups from 7-8pm.
What Drives Us
Our Mission
At Harvest Church of Murfreesboro, we pray for a move of the Holy Spirit and chase after the presence of God in our lives so we can impact our church and our surrounding community. We wish to see lives changed through the power of God and for His name to be lifted up. 
Get Involved
Harvest always has something right around the corner. It might be a worship night, conference, an outreach in the Boro, men's breakfast, baptism service, bonfire, picnic, etc. We believe fellowship and community are essential to a person's well-being. Click below to learn more